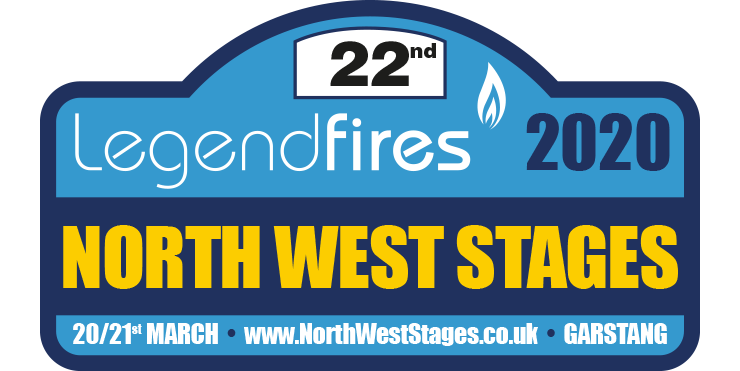 Legend Fires North West Stages 2020 Internet Entry Form
Entries Close for seeding purposes on Friday 6th March 2020 at 18.00
Entries Secretary - Ann McCormack, 99 Marina Village, Preston Brook, Nr Runcorn, Cheshire, WA7 3BH (M) 07961 086 280 (E) entries@nwstages.co.uk
Held under the General Regulations of the Motorsport UK (incorporating the International Sporting Code of the FIA) and the Supplementary Regulations.
Welcome to the Legend Fires North West Stages 2020 Online Entry system.
Please follow the steps below to enter the rally.Complete all the fields in the form below. The fields with red backgrounds are mandatory.
Entries will not be accepted unless THREE seeding fields are filled in (a council requirement)
Once you have hit the "Enter the Rally" button at the end you will receive an automated response confirming we have received your entry form. You can update your entry from this e-mail by pressing the update button
The entry fee is £650 payable either in full or in two instalments of an intial deposit of £250.00 dated as entry form and the second cheque to be dated Friday 1st March 2020 for the balance of the total fees, after the 1st March 2020 the entry fee is payable in full only.
If you wish to BAC'S Payment details below PLEASE PUT YOUR NAME AS REFERENCE
Account:- Motorsport North West Ltd.
Sort Code:- 16 22 27
Account Number:- 10052959

Within 24 hours of us receiving the payment for your entry you should receive an e-mail confirming your entry from the Entries Secretary. NOTE: WITHOUT PAYMENT YOUR ENTRY WILL NOT BE VALID.
Please remember, your entry is NOT accepted until we receive minimum payment of £250.00 (any paid entries received after your entry will be given a guaranteed place prior to yours and you will lose your place in the queue).

If you don't receive a response within 3 days of the expected payment date, or if you have any other questions, please e-mail entries@nwstages.co.uk
For payment, BACs or send a cheque payable to "Motor Sport (North West)" to address above.
All the fields with a red background must be filled in, or you will not be able to continue.
Web Entries System provided by rallies.info